" Group programs are a wonderful way to receive support from moi while engaging with a tribe of like hearted souls who, like yourself, are excited, inspired and committed to creating their thriving lifestyle and business as a transformational facilitator. My group programs are typically "high-touch" and facilitate a sacred space to learn, evolve and engage with the teachings.  Scroll down to take a peek at the current group offerings . If enrollment is open, make sure you book a Soul Movement Assessment™  session right away to jumpstart your application process and ~ should it be a fit ~ ensure your seat in the program. I so look forward to helping YOU thrive. "  – Tal Shai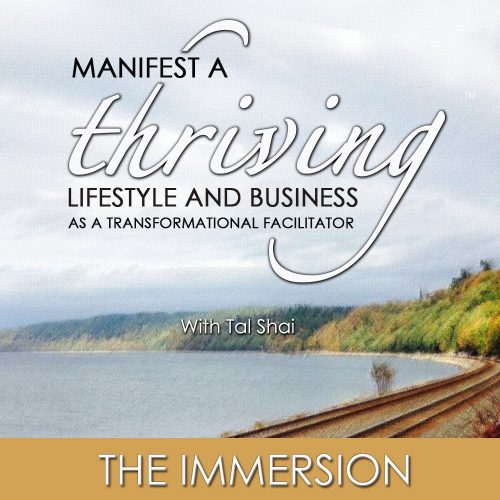 Manifest A Thriving Lifestyle and Business™ As A Transformational Facilitator is a VIRTUAL deep-dive group immersion with Tal Shai. Learn and implement a step-by-step system for developing and selling the transformation you offer as JOURNEY-BASED™ deep-dive immersions so you can make the impact and income you need to enjoy a lifestyle that is purposeful and fulfilling. Get the exact strategies, resources templates, cheat sheets and energetic tune-ups I have used to create a location-independent lifestyle and business I love without sacrificing my income, professional integrity, freedom or joy. It is best suited for transformational facilitators and service-based soul-centered business owners who are tired of trading hours for dollars and dream of creating a location-independent practice that affords them the freedom (should they choose) to travel, pursue their favorite hobby or spend more time with their loved ones… while growing their profits, purpose and impact. I have a wealth of first-hand experience and goodness to share with you!
**Enrollment for 2018 is on the horizon!  >>Click Here<<  to get "early bird" priority, yummy bonuses and lots more goodness.
Tal Shai (M.A. Counseling Psychology) is an Intuitive Business Coach and Founder of The Soul Movement Method®. She helps visionary entrepreneurs and transformational facilitators manifest a thriving lifestyle and business by harnessing The Soul Movement Method®, a somatic-based methodology designed to reveal hidden blocks, clear ancestral entanglements and access the root cause of what holds you back from authentic freedom in business and life.
She also certifies coaches, therapists and holistic practitioners in The Soul Movement Method®, helping them add a powerful system to accentuate and expand their own practice.
Claim a FREE 6-Part Online Workshop "Soul Movements For Financial Freedom™" at www.TalShai.com
Copyright© Tal Shai. All Rights Reserved Worldwide. The Soul Movement Method® is a Federally Registered Trademark of Tal Shai.