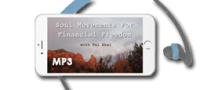 My lawyer begged me to include this:
My heartfelt intention (via this website, newsletter and various coaching programs and products) is to provide you with soul-centered guidance, support and inspiration to fuel your path. This is based on my own learnings and personal experience as a former psychotherapist, business coach, entrepreneur and "divine being having a human experience". Although I am committed to sharing my expertise and serving you from a place of integrity,  please in no way consider my guidance, advice or sharing as better or higher than your own inner knowing, authority and common sense, or as a replacement for medical attention or therapy. 
Every effort has been made to accurately represent the offerings/programs ~ on all our websites ~ and their potential. Each individual's success depends on his or her background, dedication, desire, and motivation. Facts and figures on this website are believed to be accurate (those giving them have given me their word), but are not intended to guarantee that anyone will achieve the same or similar results. We don't believe in get-rich-quick programs – only in changing the world by adding value and serving others. All offerings/programs on TalShai.com are intended to help you "live your soul's purpose and prosper™" by growing your business and following your calling. By law, we cannot and do not make any guarantees about your ability to get results or earn any money using the ideas, tools, strategies or recommendations contained on this website Nothing on any of our websites or in any of our content or programs is a promise or guarantee of results or future earnings, and we do not offer any legal, medical, psychological, tax or other professional advice. The bottom line is that you are a powerful co-creator and your results in every aspect of your business and life are entirely up to you...as guided by your unique soul curriculum.
You should assume the owner of this website (that's me), is an affiliate for people, and businesses who provide goods or services mentioned on this website and in the videos or audio. At times we (i.e.my team and I) may be compensated if you buy stuff from a provider. That said, your trust means everything to us and we don't ever recommend anything lightly.
With love and heart,
Tal Shai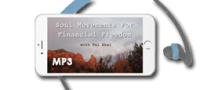 Copyright©2017 Tal Shai. All Rights Reserved Worldwide. The Soul Movement Method® is a Federally Registered Trademark of Tal Shai.